We believe it is best to leave cutting down trees to the experts.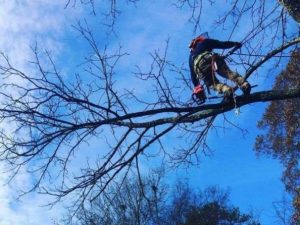 While trees can add value to your property, as well as enjoyment and shade, unhealthy ones can do much more harm than good. If your home or business is in danger of having a diseased or dead tree fall on it, this is a situation where cutting down trees is necessary and advisable. At JC's Tree and Landscape Service, we offer residential and commercial tree removal services throughout the Lenoir City, Tennessee area. We are well-equipped for cutting down trees, including using a crane when necessary to complete the tree removal process.
In addition to cutting down trees, we can also get rid of one that has fallen on your property. We can chop up the wood and leave it with you to use in your fire pit or haul it away if that is your preference. There are several signs that are indications that cutting down trees is the way to go. For example, if there are holes or cracks forming in the tree, multiple decaying branches, or excess fungi forming on the tree's trunk, these are all signs that the tree is in distress and unlikely to recover.
We do a thorough job of cutting down trees, including taking out the stump using a stump grinding process that will leave you with a clear yard. We thoroughly clean up your property, so no debris is left behind. Removal of the stump is a necessary part of the project as it would draw pests if left behind and the tree could begin to grow back in some cases. Reach out to us today to learn more about our tree services, including cutting down trees that are diseased or need to be removed to make space for something else.
---
At JC's Tree and Landscape Service, we can help with cutting down trees in Knoxville, Seymour, Lenoir City, Farragut, and Amherst, Tennessee.