Let our experienced team handle risky situations with expert tree services.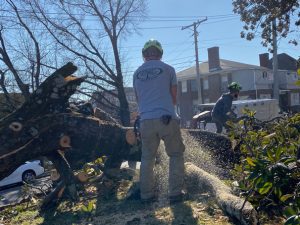 There are some tree services that you can safely and effectively complete on your own, but knowing the difference between the simple ones and those that need an expert is important. At JC's Tree and Landscape Service, we would much rather you reached out to our experienced team than take the risk of harming your trees, becoming injured, or causing damage to a structure through a tree removal project gone wrong. Here are the tree services we offer in the Lenoir City, Tennessee area that are best left to professionals:
Tree removal– Trees are incredibly unpredictable, and without the most effective safety protocols in place, your tree could end up somewhere you do not want it to be. Even if you manage to get it down safely, you still have to deal with it. Leave tree removal to us, and we'll clean up the area and even remove the stump.
Stump grinding– Stump grinding is part of our tree removal process, but you can also reach out to us if you had a tree fall or someone else removed the tree but failed to take care of the stump.
Tree trimming- Pruning a small tree is a fine DIY task provided you know how to do it without harming the tree. However, when it comes to larger trees, ones near power lines, and other risky situations, let us handle the tree trimming for you.
Land clearing– It can take weeks or months to clear a property of multiple trees using DIY methods, but we are equipped to handle large-scale land clearing in far less time.
Tree maintenance– Let us help you keep your trees healthy with tree disease prevention and other tree care services throughout the year.
If you are in a situation where you need any of these tree services, we recommend reaching out to us to obtain a free estimate. We are confident that you will find our prices to be fair and affordable, especially compared to the financial setback of a DIY project that doesn't go as planned.
---
At JC's Tree and Landscape Service, we offer tree services in Knoxville, Seymour, Lenoir City, Farragut, and Amherst, Tennessee.
Similar Services We Offer: